Veronika Romhány (b.1987) is a visual artist based in Brussels, Belgium. She holds two Master's degrees (2013) in Painting, and as an Artist Teacher from the Hungarian University of Fine Arts. She is an active member of MŰTŐ since 2017, and the Studio of Young Artists' Association since 2011. She currently works as a mentor at GameLAB, Polish National Agency for Academic Exchange, and as a Ph.D. researcher at Luca School of Arts, Interaction and Game Design research unit, KU Leuven, in Belgium.
In the past few years, she has been experimenting with unnatural narrative storytelling in 3D animation within the frames of techno-amateurism mixed with voyeurism as an escapist practice. Yet, as understanding the term of "viewser" as critics towards human agent superiority, she examines this reciprocal creative practice between the human and its software tools during creation.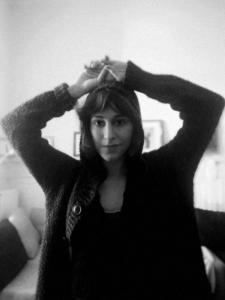 Using deconstructive analysis, followed by speculative reconstruction, her works portray mostly paradoxical situations in virtual, laboratory environments, focusing on the digitized, automated human body itself. She is using the imagery of monitoring, analysis, observation, or pseudo-experiments – while these action scenes are being digitally recorded. In this long-term, practice-based artistic research, she has been working in a collaborative form under the pseudonym Nimova Projeckt since 2015 with sound designers, or musicians from the DIY,  experimental electronic music scene from Hungary, Czech Republic, Ukraine, and from the Netherlands.