Lili Agg (b. 1991) is a Budapest based visual artist. She studied Philosophy of Art and History of Art at the Eötvös Loránd University Faculty of Humanities between 2010-2012, and graduated from the Painting Department of the Hungarian University of Fine Arts in 2018. She has started her doctoral studies at the Doctoral School of the Hungarian University of Fine Arts in 2020. She is one of the co-founders and active members of MŰTŐ artist-run space and collective founded in 2016.
Agg's artistic attitude is based on research and critical approach. In her artworks, she reflects on the human identity and existence in a world overwhelmed by images and information dust. The subsistence of everyday life, our thinking of humanity and the environment, or the definition of ourselves as an identity or community, seem quite difficult tasks, as the patterns, stories and traditions that we used for a long time, have become empty and nonfunctional tools. During her creative process, she analyses the uncanny and sensible aspects of fragmented realities, posthuman world's depressing atmosphere, hidden manipulation or effects of capitalist realism from a subjective perspective.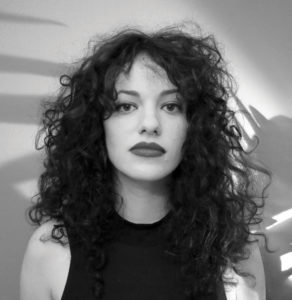 Her works are models of these phenomenons, where she recontextualizes her artistic intuitions and visions, highlighting its philosophical and general aspects. She combines the medium of traditional painting and new media, also searches for the boundary of image and object, reality and virtuality. Her installation's aim is to present, question and reflect on restricted notions of problems above, for example: lack, sisyphean work, burn-out, (self)exploitation or error. Beside her artwork-focused artistic attitude, she searches for opportunities where art is more like a community builder entity based on common thinking and creation.